Franny K. Stein Mad Scientist
Written by Jim Benton
Reviewed by Cal J. (age 8)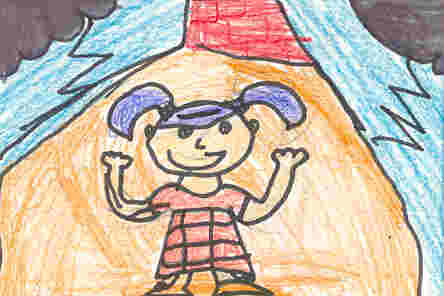 Have you ever dreamed of being a mad scientist? Or have you wanted to change your life? You should read Franny K. Stein: Lunch Walks Among Us by Jim Benton.
To begin with, this story was about a girl who was a mad scientist and loved everything haunted. Her mom will always make her room pretty with flowers. Then Franny will always wreck it with bats, snakes, and spiders. Then her mom always got mad! She punished her for 2 weeks.
In addition, her mom sent Franny to a new school. Then when Franny walked in the door all the kids just stared at her. I thought this was a good part because I felt bad for her because the kids thought she looked ugly. I would have been nice to her. When Franny went out for lunch and recess nobody would play with her or eat with her. So when she went home she was as sad as a puppy. Then she went to her secret lab and created a giant monster. This was my favorite part because she decided to show everyone that she was special because they had been mean to her. This book was great to read because it as I kept reading, the excitement kept growing and made me want to keep reading. The monster added lots of excitment!!
In conclusion, this story is good for kids in 3rd grade and up. I also think this book is good for a teacher read aloud. Go check it out!