Diary Of A Wimpy Kid: Dog Days
Written by Jeff Kinney
Illustrated by Jeff Kinney
Reviewed by Noah S. (age 9)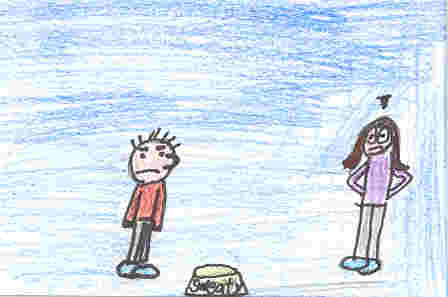 If you've ever pictured middle school, you've probably pictured a pile of trash. If you did then you should read Diary Of A Wimpy Kid: Dog Days by Jeff Kiney.
To begin with, this story is about Greg Hefley, his middle school days and lots of problems he needs to solve. Greg's older brother Rodrick seems to interrupt Greg's moments. Greg gets a dog but seems to realize that the dog can have lots of issues. Soon the dog seems to be a problem and it is given to Greg's grandmother. Greg's grandma feeds the dog and makes it fat. Rodrick buys a bowl with the word "sweetie" on it for the dog but the spelling is "sweaty".
In addition, I enjoyed this book because of the humor that is in it and the fact that I can relate to the main character. Greg is funny in the book and always avoids letting his aunt kiss him. I love video games and I like playing them. In the book, Greg goes nuts for video games, I can easily relate to him.
In conclusion, This book is perfect for boys ages eight to thirteen. It's a good book that has humor. You can probably even relate to it!