Dying to Meet You
Written by Kate Klise
Illustrated by Sarah Klise
Reviewed by Olivia S. (age 9)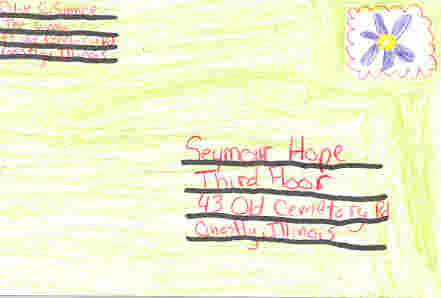 Do you live in a haunted house with an 11 year old, his cat, and a ghost? If you want to hear about a guy who does, than you should read, Dying to Meet You: Old Cemetery Road, by Kate Klise.
To begin with, this story is about a man named Ignatius B. Grumply, who rents a house for the summer. In the house Seymor (an 11 year old), Shadow (his cat), and Olive (a ghost) are already living there. Ignatius is then required to live with them. Also, Ignatius is trying to write the 13th book in his series the Ghost Tamer series. Ignatius had been suffering from writer's block until he met Olive who helps him write his story.
In addition, I enjoyed this book because, the whole story is told in letters and newspaper parts. This makes it more interesting, since it is different than most books. Also it is fun to try to figure out who the person that wrote the story is. Some of the people that write the letters are Ignatius, Seymor, and Olive. (Of coarse Shadow can't. He's a cat!) There are many other people that write letters in the story. Finally, I liked when the characters were really mad at each other at the beginning. Olive was so mad that she tried to drop a chandelier on Ignatius's head! That part made me laugh out loud!
In conclusion, this book is perfect for boys and girls ages 9-13. I also think it would be a great book to do a book report on. You should find it at your library today.