Captian Underpant And The Terrifying Return of Tippy Tinkletrousers
Written by Dav Pilkey
Illustrated by Dav Pilkey
Reviewed by Eric L. (age 8)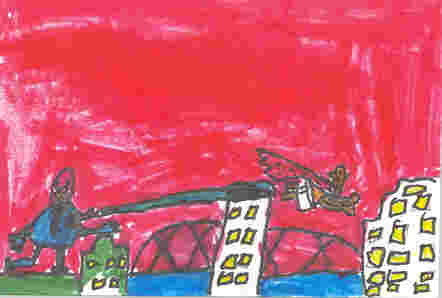 Do you like to laugh at underpants? Well read Captain Underpants and the Terrifying Return of Tippy Tinkle Trousers by Dav Pikey. It's hilarious!
To begin with, this story was about George, Harold, and Mr. Krupp going to jail for the rest of their lives until Mr. Krupp, the principal finds Tippy. They get mad and say mean stuff about each other. The funniest part was when the bullies ate dirt and other gross things. The most important part was when Tippy and Mr. Krupp go to juvie to find George and Harold. Boy, they were in trouble!
In addition, I enjoyed this book because I remember a silly thing my dog did that was similar to a part in the story. It was when the bullies ate dirt and Tippy said people were crazy back then. My dog Lily ate dirt and I said she was a crazy dog. But she continued to eat all the dirt she could find. That was same as the story.
In conclusion, this book is good for boys and girls ages six to twelve and for your parents to read to you. You should check it out today!