The Familiars
Written by Adam Jay Epstien
Reviewed by Olivia O. (age 9)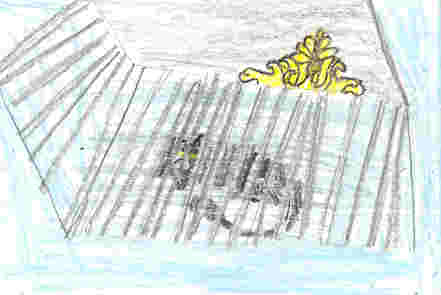 Try to imagine being stray cat that lives on the streets of Bridgetower. If you can, you should read THE FAMILIARS by Adam Jay Epstein and Andrew Jacobson.
To begin with, this story is about Aldwyn the cat having hard and smooth times. Aldwyn has many enemies but to pick out one it would be Grimsdale, a bounty hunter. He will catch any animal he sees. Aldwyn tries to sneak a fish and BOOM! A trap went off on Aldwyn's tail. And with Grimsdale trying to catch him, it slows him down. He finds a familiar pet shop and gets in but is picked. Also in the middle of the story, the wizard's teacher Kalstaff dies in a fight against Queen Loranella when she betrayed him. That reminds me of when my fish fight over their food!
In addition, I enjoyed this story because I love talking animals. In the story, Jack is excited when he finds out that he can communicate with Aldwyn. If I could talk to my own pet I would feel like him too. Another part I liked was how the animals can get ingredients for the spells. For an example a 3 leaf clover can turn the spell upside down into a curse spell.
In conclusion, this book is fitting for ages eight to twelve. I think it is good to read on your own. When you start you can't stop!