Franny K. Stein Mad Scientist
Written by Jim Benton
Reviewed by Gavin L. (age 9)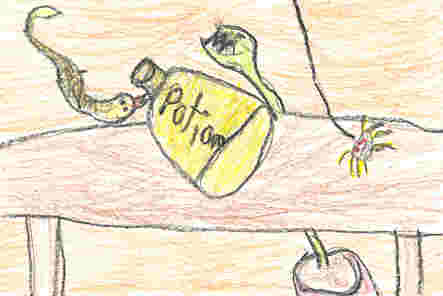 If you know a mad creative scientist then you should read Franny K. Stein: Lunch Walks Among Us by Jim Benton.
To begin with, there is a little girl named Franny. Her family lives in a nice house but her room had spiders, snakes, and bats...even crazy monsters. She is a mad scientist that makes all sorts of monsters and potions so don't be surprised. Scientists don't like school but she does no one likes her but Miss Shelly her teacher.
My favorite part of the book was when one day in the story, she made a potion to make her like the other girls to get friends. I liked this part because I felt bad for her because she didn't have friends. The next day she gets friends but Miss Shelly liked her better when she was a mad scientist. It helps kids see that it is important to just be yourself. I think all kids should just try to be themselves! I this this was a really good book to read because Franny K. saves her class from a monster. She was a hero and I think that makes her a good character to read about.
This is a good book for ages all kids 7-10. You can also read with someone in your family.