The Challenge of Samukai
Written by Greg Farshtey
Illustrated by Paulo Henrique
Reviewed by Alex. A. (age 7)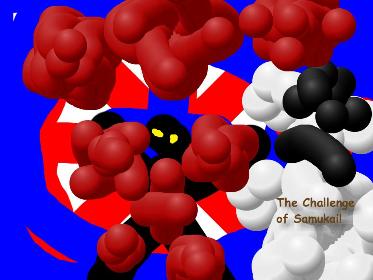 The book is about four people that become ninjas. A guy named Garmadon and a skelton named Samukai made a bet. They fought and the winner would rule the Skeleton Army. The loser would have to return to where he came from, the undead. Garmadon's brother, Sense Wu, knew something was wrong. He was protecting four golden weapons found from Garmadon. Sensie Wu found four people to train to become ninjas and help protect the four weapons. One day, Kai, the red ninja, was chasing a skeleton. He followed him into Crystal Cave. Then kia felt sick, so he left. But then evryone thought he was a SKELETON, so kai thought and he thought. Then he thought if he went back to the Crystal Cave he would turn back to normal. Then he saw Jay, Cole and Zane on his tail. So they all went into the Crystal Cave. Kai turned to normal, but Zane, Cole and Jay tuned into skeletons.
My favorite part of the book was when there was a battle between a skeleton and a dark lord. That part had a lot of action in it. The Ninjas have to work out more because they aren't doing that well against the skeletons. The pictures in the book have a lot of details and they are really good. My favorite character is the Red Ninja because he has a sword, which is my favorite weapon. He uses his sword to slice things up.
I recommend this book for kindergarten through fifth grade because it is a comic.