Athena the brain
Written by Joan Holub
Illustrated by Suzzanne Williams
Reviewed by Divya K. (age 9)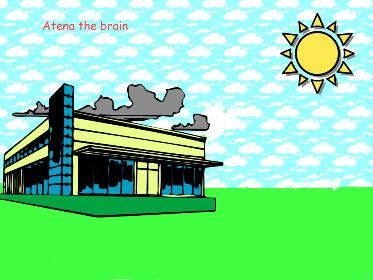 Athena has been always beyond beyond. She has been mastering her grades and getting A's in every subject down in Earth. She never thought that: 1 She is goddess and is in the heavens entering a god school. 2 Her dad is Zeus and he is the principal of Athena's god school. 3 She will make friends at the new school, but there are 2 more problems. 1 She is scared and nervous that she might fit in the new school. 2 She has to deal with the baddest and meanest girl in history- Medusa! Read this book to see how Athena takes care of her problems and how she takes care of the bad girl, Medusa.
I loved this book because it talked about mythology (gods and goddess)and made me feel like a goddess at that moment when I was reading the book. My favorite part was when Medusa turned into stone because she keeps playing mean tricks on eveyone in school except the teachers and the principal- Zeus and she deserved it. I liked the character Athena because she has a kind heart and does not always talk about herself and brag about her grades. She sounds like me. I do not like the character Medusa because she is mean and does not treat others how they want to be treated.
I highly recommend this book to 3rd and 4th graders who like mythology which is gods and goddess. You should read this book because it is very entertaining and good.