Chihuawolf
Written by Charlee Ganny
Illustrated by Nicola Slater
Reviewed by Anirtha N. (age 10)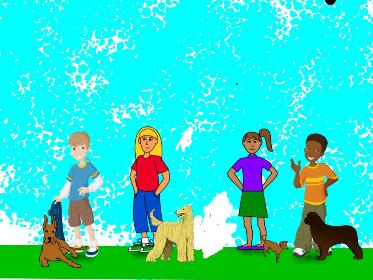 This story is about a chihuahua named Paco who wants to become a werewolf to become friends with another dog named Natasha. The other dogs tease him for being so small. He wants to become a werewolf. Another dog, B-boy, tells him that if he drinks rainwater from a werewolf's footprint he can turn into a werewolf. He goes into the woods with his friend, Coco. Coco's foot gets cut by a piece of glass. They get chased by the werewolf, but they get home. Coco's owner, Sandy, thinks a robber did it. The vet tells Sandy to make sure Coco does not run or play. Natasha's owner, Victoria, says Natasha is lost. Then Paco and B-boy go to where the werewolf lives to find her. They think the werewolf kidnapped her. When they get there they find Natasha and run away. To find out what happens to the dogs, the kids, and the werewolf check this book out of your local library.
My favorite part was when they find Natasha. The character I liked was Coco because she is wise and has good ideas. The illustrations have lots of shadow effects. The morals in this book are "Don't judge a book by its cover" and "be happy with what you have."
I recommend this book because it has a happy ending. I would recommend this book to animal and mystery lovers.