Aloha,Hawaii
Written by Lisa Yee
Reviewed by Divya K. (age 9)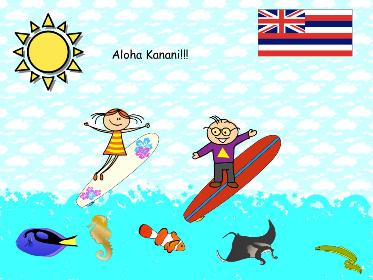 Kanani's cousin, Rachel, comes to stay for a month because her mom and dad are on their honeymoon. Kanani can't wait to show Rachel around the friendly Hawaiian town from swimming and snorkeling to Kanani's own shaved ice store. But the friendship between Kanani and Rachel gets ruined. First Rachel is homesick for her home in New York and then she is unhappy about leaving her mom. Read this book to find out how Kanani fixes the relationship between herself and Rachel. You will read how she makes Rachel happy.
I loved this book because it was creative and funny. Also the author made me want to get up and to go to Hawaii. My favorite part was when Kanani and Rachel rescued a monk seal because it was all tangled up on the shore. I really liked the character Kanani because she sounds like me. She loves the beach, wants to rescue animals, helps her family, and gets people to come and enjoy the place.
I highly recommend this book to 3rd and 4th grade students who are interested in Hawaii, snorkeling, shaved ice, animals, the beach, and people who like to be in the water.