Mallory vs Max
Written by Laurie Friedman
Illustrated by Tamara Schmitz
Reviewed by Ananya M. (age 9)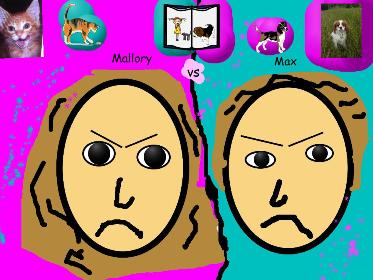 Mallory is a young 3rd grader who gets very angry that her big brother Max gets a dog. He calls him Champ and the worst thing is...Champ is stealing Mallory's BFF Mary Ann. And even worse...Champ is treating Cheeseburger (Mallory's cat) like a punishment! Or does she think so? Read more to find out what happens next!
I think this was an ok book because I'm not that interested in realistic fiction kind of books. But the author's writing style is amazing because the author makes the writing look really silly by adding stories that Mallory wrote! This book is part of a series. Other books in the series are Step Forth Mallory and Business With Mallory.
I'd recommend this book to people who like realistic fiction books because there's no magic or any zombie type characters. It doesn't have ghosts or ghouls either.