Deep and Dark and Dangerous
Written by Mary Downing Hahn
Reviewed by C.Z. (age 8)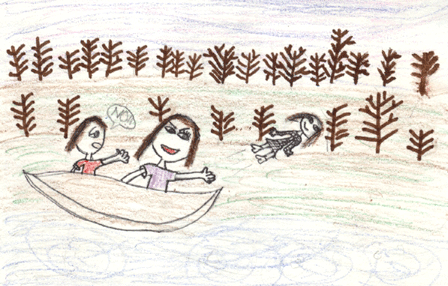 One day a 13 year-old girl named Ali goes into her attic and finds an old torn photograph with her mom, her mom's sister Dulcie, and a girl which Ali didn't recognize because the girl's face was ripped off in the photo. Ali turns the photo over and sees her mom's name, Dulcie, and a T. Suddenly Dulcie and her daughter Emma come to visit and ask if Ali could come and visit to Gull Cottage which was where Ali's mom and Dulcie grew up. Will Ali find out the girl in the torn photograph and solve the mystery there?
I thought this book was really good because Mary Downing Hahn used descriptive details to describe Gull Cottage; I also liked this book because I love scary mystery books and you can try to solve the mystery while you're reading. My favorite part was when Ali turned the photograph over and saw the T; this got me thinking "Who is the girl?" I also thought "Why was the photograph ripped?" after a little bit reading. My favorite character was Sissy, a girl that Ali met at Gull Cottage. I liked how Sissy was mean at first then turned nice after a little reading.
I recommend this book to children who like both ghost and mystery books. Ali is a very adventurous and courageous character. If you get scared easily, this would not be a good book for you. Is Gull Cottage as fun as Ali thinks it is?