Ivy and Bean Take Care of the Baby Sitter
Written by Annie Barrows
Illustrated by Sophie Blackall
Reviewed by K.C. (age 9)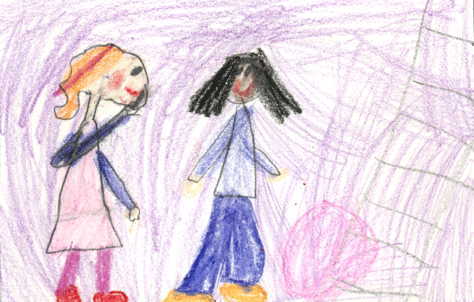 Poor, poor Bean is stuck with her older sister Nancy because her parents have to go out. Bean is not having fun with Nancy because she is stuck in the house. Bean tries to send Ivy a note but it is not a note it is a shirt stuck to a pole that says "S.O.S.". Ivy sneaks into Bean's house but Nancy does not notice her because she is too busy putting on makeup. They go upstairs to the attic and get… well, you will just have to find out.
I liked this book because it's about regular kids who have good ideas and do fun things. This book is part of a series and it all has the same characters. Even though this is a chapter book, I like how it has illustrations that show what Ivy and Bean are up to. Some times it is easier then picturing it in your mind.
I think other people would like Ivy and Bean because it is funny and it has some mystery in it. It is fun to read because it reminds you of when you have a baby sitter. If you like reading books about kids getting into mischief you should read this book!