Diamond
Written by Suzanne Weyn
Illustrated by Elisabeth Alba
Reviewed by H.B. (age 8)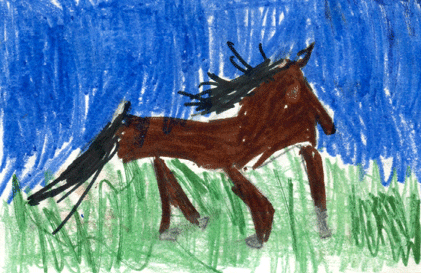 A horse named Diamond is really old and there is a competition that the rider named Lucy enters. Lucy has an older sister Amy. Amy helps Lucy train for the race Lucy is scared for the competition because there are so many people watching and she is worried that she won't win. Lucy trained really hard after the girls teased her. See if Diamond wins or loses the race.
I liked this book because it teaches me a lesson. The lesson is it doesn't matter how old you are you can do anything. Diamond is an old horse and is able to compete in a race. The illustrations helped me understand the book more. Also, they are colorful and they like they were made with water paint. I felt excited and scared because I did not know if Lucy was going to win the race.
I recommend this book to students who like to laugh and are horse lovers. This chapter book has big font and is a quick read. You won't want to put this book down. Students in 1st, 2nd or 3rd grade can read this book.