I'm Not a Supermouse
Written by Geronimo Stilton
Reviewed by G.L. (age 8)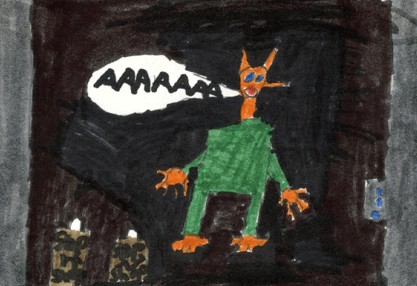 Have you ever been stuck in an elevator? This happens go Geronimo Stilton, a rat who runs the New Mouse City newspaper. One day he is going to the library with is groceries. He quickly needs to get his book but they say the library is closed. This was a problem. He was in the elevator and it gets turned off so Geronimo gets stuck. He screams at the top of is lungs. Luckily he has his groceries so he eats his groceries. "I hate small places", Geronimo says. Then he goes to sleep in the elevator and when he wakes up he remembers that he has a cell phone so he calls his best friend Bruce Hyena. Bruce pulls Geronimo into a helicopter but Geronimo Stilton is screaming for help because he doesn't want to go because he is afraid of heights. Will he survive the 3 deadly dangerous trips or not?
I like that the main character, Geronimo Stilton, went on adventures because it helped him with his fears. I disliked the character named Bruce because he pulled the main character Stilton into the helicopter when he didn't want to go on the adventures. Also he slapped him on the back really hard. My favorite part is when Geronimo and Bruce go on adventures because I like adventures myself.
I recommend this book to people who like funny, dangerous adventures and to people who like to read Geronimo Stilton books. The book would interest 7-9 year olds who like the adventurous settings.