Absolutely Lucy
Written by Ilene Cooper
Illustrated by Ilene Cooper
Reviewed by K.S.W. (age 8)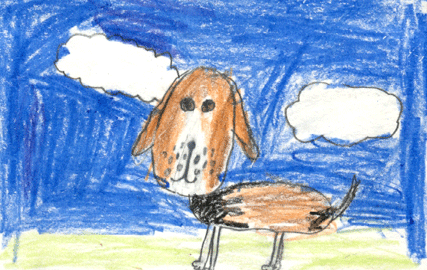 Have you ever moved and been left alone? A boy named Bobby Quinn is very shy. Had no friends at his new home. His birthday comes and he gets a puppy named Lucy. Lucy is not that shy. She helps Bobby Quinn get involved in more activities and gets him a friend. But Lucy also gets in trouble a lot. She chews on slippers, rips paper and chews toys. Just read to find out how Bobby helps Lucy!
I think this book is very good and detailed because I could relate to the character Bobby Quinn. When I was 3 years old I moved from Norwalk and I was very shy just like Bobby Quinn. I think the illustrations look like they are popping out. Some of her illustrations even go to the next page. She uses black and white. This book is nothing like any book I read. It has easy words and great detail. It really got me to read more and more. I felt very excited and happy. It put me on a lot of cliff hangers and really amazed me! I though the book was super good.
I recommended this book to people who love dogs and who have moved from a different neighborhood. I think this book would be great to read on a nice summer day and get a good glass of lemonade and it will be a perfect day! Do not forget to read this good book! And remember, never ever eat slippers!