Cats vs. Dogs
Written by Elizabeth Carney
Reviewed by BD (age 10)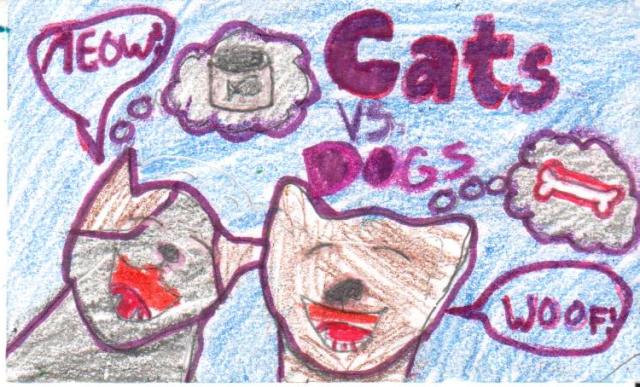 "Who has the scariest relatives? Who serves up supper? Who has a tattle tail? Who's the chattiest?" These are only a few of the CAT-egories (categories-the book is called Cats vs. Dogs) in which either cats or dogs can earn the title of "winner". Cats vs. Dogs contains interesting facts, and even "10 Cool Things About Dogs and Cats"! Additionally, there are a few surprises in the book, so read the book to see what they are! I don't want to say anymore or you won't want to read this book.
This book is great not only because of the topics, but because you can understand almost every word in the book, with the help of pronunciation keys in parenthesis. Here's an example: I couldn't understand the words Eucyon Davisi, so I looked at the pronunciation key. This is how it is pronounced, say: (U-see-on-DUH-vee-see). The book also has cat and dog communication dictionaries, and a cool glossary with pictures. The reader can learn a great deal about cats and dogs because the book not only states facts but also gives details, pictures, and explanantions to make sure the reader understands. This book is also a quick-read-- it is short but uses pictures and captions to pack in a lot of information.
I recommend this book for people who like reading short, fact-filled books, sprinkled with a bit of humor. National Geographic Kid's "Cats vs. Dogs" is a great book you don't want to miss if you are trying to learn a lot in a short time.