I Lost My Bear
Written by Jules Feiffer
Illustrated by Jules Feiffer
Reviewed by Morgan B. (age 7)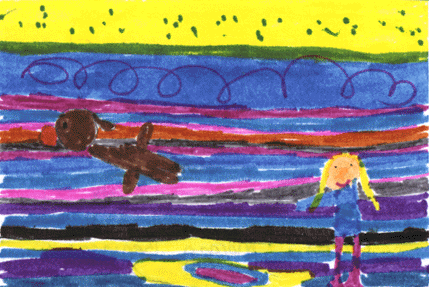 This story is about a girl who can't find her bear. She looks all over the place. She asked her sister, "Have you seen my bear?" Her sister said, "I HAVE NOT SEEN YOUR BEAR!" She feels really sad so her sister lets her use one of her stuffed animals. Her sister says, "Throw the stuffed animal and it will find something that's lost." Then her sister said, "You better not lose my stuffed animal and stop playing with my nail polish!" So the girl threw the stuffed animal and found lots of other stuff, but not her bear.
My favorite character is the big sister, because she lets her sister use her stuffed animal. My favorite part is when she throws her sisters stuffed animal and it found lots of stuff, because when she played with all the stuff she found she forgot about her bear. I felt really sad when she couldn't find her bear.
I would recommend this book to a first grader or a first grade class.