American Chillers Iron Insects Invade Indiana
Written by Jonathan Rand
Reviewed by Kamren C. (age 12)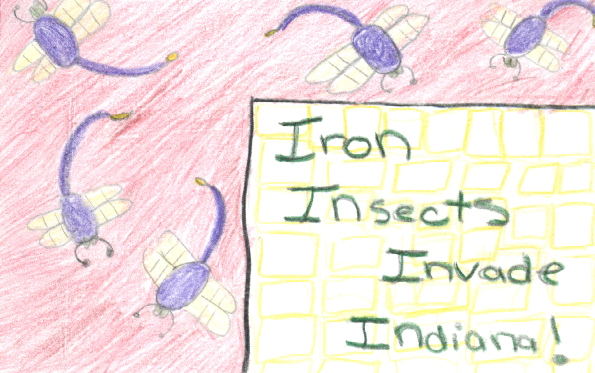 In Jonathan Rand's Iron Insects Invade Indiana, Travis and Mandy, two best friends, discover strange iron insects. The two best friends aren't really sure what to say or do about the bugs. The only thing that they know is that the insects are abnormal and seem harmful.
Once Travis and Mandy find a dead bug, they discover strange lettering inside the bug's wing. After questioning, they find out that thousands of metal insects are about to take over the city, thanks to a mad scientist! This whole incident becomes a race against the bizarre bugs.
I definitely like this book because it's hard to guess what will happen next. Mandy would probably be my favorite character because she is very outgoing and ready for adventure! Since Travis and Mandy were very interested in the bugs, they started to discover the mystery very quickly! Personally, I wouldn't have even bothered to mess with the bugs because the insects are weird and you don't know what they might do!
I also find Mandy and Travis to be brave because they helped Mr. Buggs defeat his brother who was creating the iron insects!
If I could change one thing about this book, it would be that at the end of every chapter the author drags on the story. I think that it's a good way to keep you reading, but the author does it every time.
When it comes to Eddie, the older boy who bullied Mandy and Travis, I can't stand him! I thought he was very immature picking on kids younger than him! When Travis and Mandy threw the water balloons at Eddie, I was proud of them for standing up for themselves.
Since all the books in the American Chillers series are full of adventure, for anyone who wants to read a book with a twist to the ending, Jonathan Rand's books are perfect for them! I recommend the book to students in late elementary or middle school.