Promises to the Dead
Written by Mary Downing Hahn
Reviewed by Danae D. (age 12)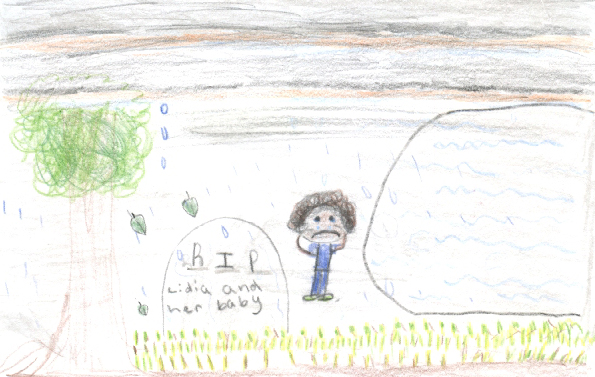 When Jessie, a young boy, goes down to the marsh to hunt some turtles a lot goes wrong, including Jessie having to help a runaway slave whose mom just died birthing a baby. Although Jessie has a lot on his hands, he finds a way to save Perry (the runaway slave) and manages to keep away from the slave owner who beats Perry and lies about everything . There also was a promise made by Jessie to Lidia (the slave boy's mom who had died) that her son had better get to safety or else she would haunt Jessie forever.
I really think this story is fantastic because it shows me how it would be to live in the slave times and what I would have suffered. Maybe I would get a nice slave owner but nobody knows.
A character in this book that changed I think is Perry, because he went from a boy who was shy, upset, and who didn't like Jessie to a boy who loved Jessie, wasn't sad , and who wasn't the least bit shy.
My favorite character is Jessie because he was brave and kept his promise throughout the whole book, even when he felt like going home and giving up. I can relate to his character because he is the same age as me.
The only thing I didn't like about the book was the melancholy slavery that went on. It just made you want to cry. The fortunate part was that Perry and Jessie were okay and found a place that was actually safe. How the book ended was not what I expected. I thought they would be together for a long time.
If I could change something to make this book better, I would have kept the mom and baby alive and not have had them die because I think that was too depressing. I also know that those kind of things happened back then, so it's not that surprising to me but otherwise I think this book was a wonderful novel.
I recommend this book to people who are interested in history and what happened back when slavery was taken place. I also recommend this book to people who like adventure and frightening stories because you will see a lot of that in this book.
When and where Promises to the Dead takes place was scary to me. The people in this story sense a lot of fear, which rubs off on you, and can be frightening when you read it. For example, when Perry and Jessie are chased by the slave owner you will be nervous for them, wondering if they will be caught.
This story has always been one of my favorites because it really tells me a lot about what it would be like in my time and how lucky I am now.