A Cloak for a Dreamer
Written by Aileen Friedman
Illustrated by Kim Howard
Reviewed by JG2 (age 11)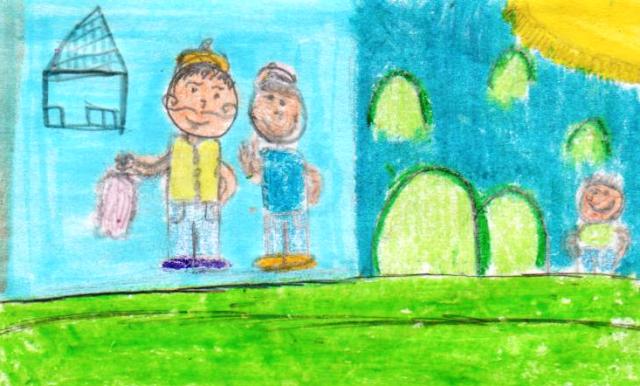 In this book the youngest son of the tailor doesn't want to be a tailor. He would rather discover the world and travel different places he's never been before. Then there is this shopper that orders four things. Three dress for his wife and one cloth for himself. Now if you think that's interesting you have to read the book to know more.
In the beginning I did not want to read the book. Because I thought it was going to be boring. But once my teacher said it was one of his favorite books I thought I would just give it a try. But then once I was done I ended up loving this book because even though the tailor's youngest son inset into being a tailor and he doesn't want to fallow in his father's footsteps. His father will help him along the way through his great adventures!
The most unique thing that I found was that the boys had to make the dress for the archduke's wife them self's for their father can see if his boys are well in of to be a tailor. But the tow older boys wanted to be a tailor and work along their father's side. The youngest son wanted to travel to places he'd never been before.
Last but not least I would want to recommend this book to kids in 4th and 5th graders, because I think if I recommend this book to 4th & 5th graders they would understand it better. And they would actually get in the book and might have self to text or text to text in the book. I think you 4th or 5th grader wouldn't read it because it looks boring but really it isn't. What I'm trying to say is, DON'T JUDGE A BOOK BY ITS COVER.