Ramona and Her Father
Written by Beverly Cleary
Illustrated by Alan Tiegreen
Reviewed by Krithi G. (age 8)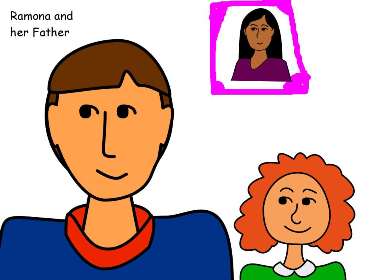 This book is about a girl named Ramona and her father. Ramona's father loses his job and smokes all day, but Ramona wants to save her dad's life (and his black lungs). Ramona decides to help out. Maybe she could earn a million dollars making a T.V commercial, or get her father to stop smoking to save money. After her dad finds a new job she does a play and she is the sheep in the play. She had sheep pajamas, so her mother makes her wear it. Read this book for more information.
I like this book because she wants to earn a million dollars but does not know how. I could not take my eyes off this book because it was so interesting. My favorite part was when she got burrs from a plant and made them into a crown for her head. I like to watch tv with my dad just like Ramona.
I would recommend this book to third, fourth, and fifth graders because there are some challenging words in the book. They will find the problem interesting because Ramona's problems are just like our problems.