Diary of a Wimpy Kid: Cabin Fever
Written by Jeff Kinney
Illustrated by Jeff Kinney
Reviewed by Robbie H. (age 12)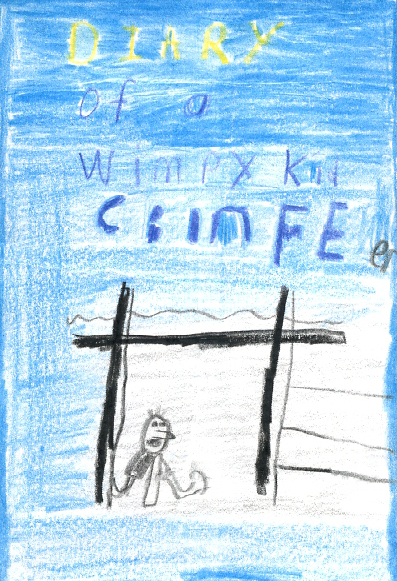 Family is good … but being snowed in with them, not so good in Diary of a Wimpy Kid: Cabin Fever by Jeff Kinney, that's exactly what happens. But when you are accused of vandalism, and your mom's glasses are broken, snow can be the best cover for your crime.
This book starts off at Christmas time and Greg is talking about how he did not get very many presents and how his little brother Manny gets all the presents. Greg thinks Manny is always getting special treatment and it makes him mad.
Later on in the book, all the playground equipment at the school is taken out because the kids keep getting hurt on it. So during recess they can't do anything but stand there. Greg's best friend Rowley started skipping around the playground, which made Greg mad, and they got into a huge fight. But, they made up soon after .
At school, Greg and Rowley decide to have a craft sale to make money. They make posters and hang them over the school and when the posters get wet, the paint on them stains the walls. The school is looking for the people who vandalized the building, but a snowstorm stops the search.
During the snowstorm, Greg is stuck inside so long that he starts doing magic tricks. He shows his brother Manny a trick where it looks like a cup is pushed through the table. Manny tries the same trick with his mom's glasses and breaks them. Greg gets blamed for it and Manny doesn't get in trouble at all.
My favorite part of the book was when Manny shut the power off in the house. It got really cold and he hid out in his room where the power was not shut off.
I think this book was funny: however, it wasn't as funny as the other books in the series. I hope the author will write more books about Greg because of all the crazy things he does. I bet his high school years will a lot of fun to read about.
I recommend this book to boys about 8 to 12. I think it would be better for boys because all of the main characters except for the mom are boys. Kids who like silly books will like to read this.