Martina the beautiful cockroach
Written by Micheal Martinez
Illustrated by brook shaul
Reviewed by Andrea P. (age 8)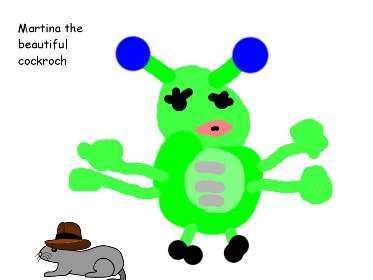 This book is about a cockroach that tells everyone she is getting married. Men come to Martina's house and ask her if she will marry them. Her grandmother is Cuban and she told to Martina if you don't like the guy pour coffee on him then he will go away. Martina did what she said. When the first man came he sang oh martina martinez bunita muchacha won't you be my wife, but martina did not like him so she poured coffee on him. This book is really romantic at the end of the book. Martina goes through a rooster, a lizard, and a pig. The person Martina marrys is someone different. Read this book to see who Martina marrys.
I like this book because it is a silly romance book and I like funny books that have romance in them. This book kind of creeps me out because I do not like bugs, mostly spiders and COCKROACHES! but I know they aren't real in the book. If I were to vote 1-10 for this book I would give it a 8!
I recomend 1st grade and 2nd grade students read this book because it is a book for kids that do not really know how to read chapter books. This book is not to long and doesn't have too many words. This book is for beginners and for kids who are just starting to read chapter books.