The Black Stallion
Written by Walter Farley
Illustrated by Keith Wards
Reviewed by Tony B. (age 11)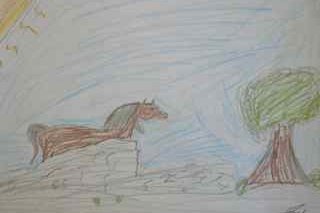 This is the first book in an eighteen book series. There are a lot of characters in it. Their names are Alec, Uncle Ralph, Henry, Tony, Mom, Dad, Joe Russo, and The Black Stallion.
In the beginning Alec goes on a cruise and meets a horse that is tied up in a stable on the ship. He becomes friends with the horse. On the ship, the horse escapes with Alec by diving into the ocean. They get stranded on an island. The middle of the story takes place on the island. They find food and shelter.
A really good part of the story is when Alec and the horse become friends. The horse saves Alec when they jump off of a ship. He stays in place in the water so that Alec can climb onto his back.
I think Alec is very brave and funny. He is brave when the horse is about to jump off a ship, and Alec grabs on to him. They both fall into the ocean. He is funny when he can't get his balance and acts like he is riding a bull. He likes horses, and has a personality like me. I like horses too. I like how he acts in the book and in the movie. This book inspirers me every day to go horseback riding.
The book is interesting, funny, and cool. They talk a lot about Alec and Uncle Ralph. This is the best book I have ever read.
I really like this book, so I think you will like it too. I recommend this book to anyone of all ages. Even grandparents would like to read it.
These are other books that are really good to read: My Side of the Mountain, Gray Boy, Old Yeller, Where The Red Fern Grows, and Sounder.