Now You See Me
Written by Jane Mason
Reviewed by Brianna G. (age 10)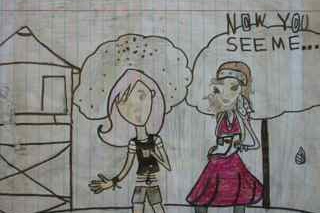 This is a spine-tingling story about two girls who find an old Polaroid camera at a thrift store. They start taking pictures with it and soon find out they're being haunted by a dark faced boy they've never seen before. They don't know if he needs help, or if he is going to hurt them. Find out when you read it.
What I think about this book is that the characters are very serious about what they are looking for and make sure they find it. The book doesn't have any illustrations. This book is like no other book I've ever read because it has many surprises. If I related to any of the characters, it would be Abby because we both like a good mystery, we both like to figure it out with a friend, and we look alike (kind of).
I think that if you read this book, you will really like it because it is really interesting in the beginning when the girls find a camera. That's when you know it's a good book. Another good part in the book is when they find out that a boy is haunting them.
I recommend this book to people who like a good mystery. I would recommend these books to you too: Midnight Howl, The Dead End, This Totally Bites, Miss Fortune, Her Evil Twin, Curiosity Killed The Cat, and The First Bite.