Arms and Armor
Written by michele byam
Illustrated by Dave King
Reviewed by Brandon B. (age 11)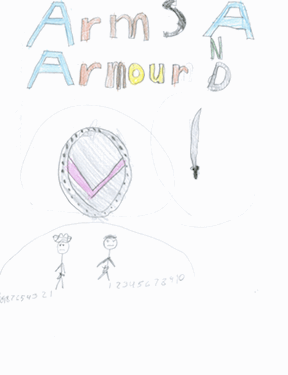 Arms and Armour is about weapons and armour. This book is an Eyewitness Book. It starts off with spears and swords made from scratch. The material used to make them was rocks and sticks. People used the clubs for hunting and for protection. They had to reinforce the clubs when they broke.
I liked the Samuri sword because it has the best cutting ability of all of the swords. It's curved and sharp. My favorite part of the book is the Samurai page. Ever since I was a little kid I have loved Samouri. Another favorite page of mine is the cowboy page because of the gunslingers and all the pistols. I also the like drawings of the armor details.
I would recommend this book to people who like weapons and armour.