Flat Stanley
Written by Jeff Brown
Illustrated by Steve Bjorkman
Reviewed by Mythri M. (age 9)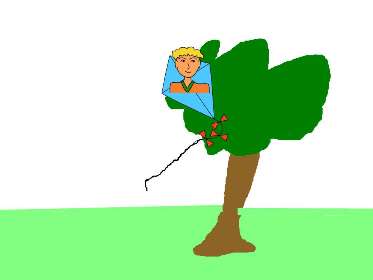 CRASH!! Stanley is crushed by a bulletin board! He can slip through doors, get rolled up, and can get lowered into grating bars. His brother Arthur, is jealous of him. One day Arthur uses Stanley as a kite. Suddenly, Arthur lets go of Stanley. He goes and gets ice cream. Stanley falls into a tree. He is stuck. When Arthur comes back Stanley his mad at him. Reason one is he didn't get any ice cream for Stanley. Second, he left Stanley in a tree. For more iformation about what happens to Stanley read Flat Stanley.
My favorite part of the book is when Stanley gets lowered into a grate by his mom. She sent him down to get her wedding ring back. I think it would be fun to be flat because I could do a lot of new stuff. The illustrations were really good! The illustrater is good at drawing Stanley and the other characters. If you like this book there are other Flat Stanley books.
Anyone who likes adventure and humor, would like this book. I would definitely recommend this book. Students in grades three and four would like this book because there are a lot of interesting words and it is funny.