A-Z Mysteries The New Years Dragon Dilemma
Written by Ron Roy
Illustrated by John Steven Gurney
Reviewed by Kavyaa P. (age 8)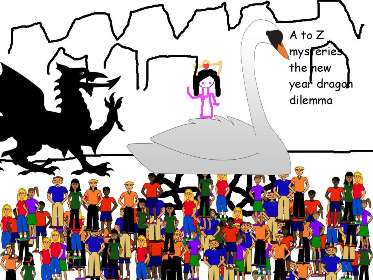 This story is about Dink, Josh and Ruth Rose going to San Francisco. Their tour guide, Holden, is taking them to a Chinese New Year Parade. Holden's girlfriend, Lily, might be Miss Chinatown, but then someone stole Miss Chinatown's ruby which was in her crown. Will Dink, Josh, and Ruth Rose solve the mystery? Find out by reading this book.
My favorite part was when Dink's dad tricked Josh that he is going to order spaghetti and meatballs. I like it because Josh loves to eat. I like this book because it is a mystery. The illustrations were very neat. The illustrations have lots of details in them. You can't wait to see Josh's drawings because he draws very well. This book is part of a series. There are 31 books in the series. It is very similar to the other books in the series because they are all mysteries.
I recommend this book to all the people who love mysteries. Students in grades two through five would enjoy this book. They would like the characters because they are very funny.