Eragon
Written by Christopher Paolini
Reviewed by Yosh S. (age 11)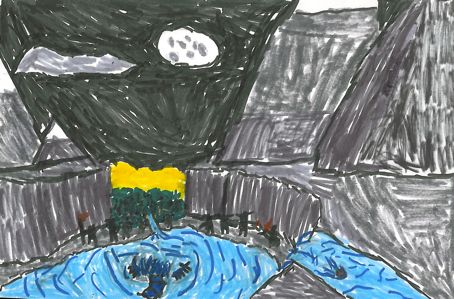 My praises for this book flew sky high with the dragons!
Eragon was a poor farm boy when he found a beautiful stone in the Spine. He planned to sell the rock and buy food for his family with the money. When the rock turns out to be a dragon's egg, and black cloaked strangers turn up in Carvahall, Eragon realizes he has just become the first Dragon Rider; apart from King Galbatorix, ever since the death of Morzan: the first and last of The Thirteen Forsworn. Eragon's life is destroyed when the cloaked strangers burn down his uncle's house and torture his uncle to death. So now Eragon and his dragon must either run from the Empire and join the Varden, or join Galbatorix and renew The Forsworn bringing, evil upon the land.
I liked this book because there was a lot of action, fighting, and large descriptions. My favorite part was when Eragon kills Durza the Shade, while his dragon, Saphira, crashes through Isidar Mithrim and blows fire for the first time. My favorite character was Ayra the elf because she could fight very well, with sword and bow, and was a skilled magician.
This book is the first in the Inheritance trilogy, and I believe it is equal to the other two. I think that Eragon is a bit like me because we both like adventure and we both have had some adventures, like my adventure when I flipped out of a kayak in some rapids and his adventure of first flight on his dragon.
I recommend this book for teenagers and adults because there are some gruesome scenes, like the slaughter at Yazuc and the great battle at Farthen Dῠr, and harsh language.