Diary of a Wimpy Kid
Written by Jeff Kinney
Illustrated by Jeff Kinney
Reviewed by Jack H. (age 11)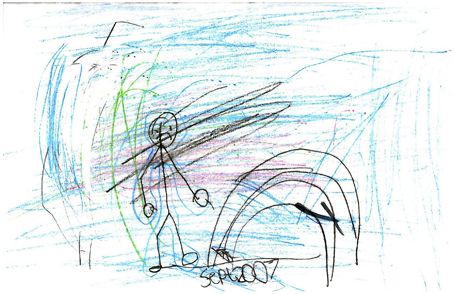 Diary of a Wimpy Kid is a story about going to a public elementary school. There are mean kids there. A kid named Greg tells the story. A guy is sitting by two other wimpy guys. They do funny things. One kid was eating cheese, and he got the "cheese touch." If you get the cheese touch, then if you touch anyone, they get the cheese touch, or you get the cheese touch by touching them. If you get the cheese touch, then you smell bad. It was funny in the book, but I wouldn't like that in real life.
My favorite part is when Greg goes to a kid's house and disables a game. Then the kids go crazy. I like it because it sounded really funny to me. I laughed so hard.
I want to meet that kid, Greg. He would be funny to meet. I would like to play that game that they play. I like his school, but I'm glad I don't go there. It would be too loud and crazy. I'm glad these kids don't go to my school.
There are no parts to this book that I don't like. Zero.
There are lots of Wimpy Kid books. I think I will read two, or maybe one, more. I might want to read them all. I think third and sixth graders would like this book. I recommend it to them.