THe Princess and the Goblin
Written by George MacDonald
Reviewed by Elida O. (age 11)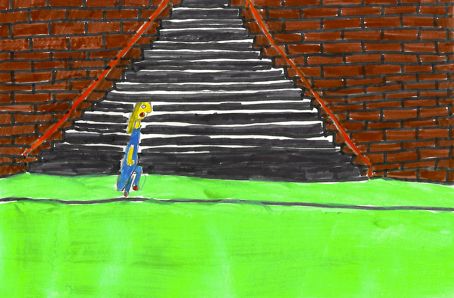 This book caught my attention the first time I saw it. I think if you saw it, then you would want to read it, but that is just my opinion. Keep reading this book review, and you can make that choice for yourself.
This book is about a little princess, named Irene, whose father is the king of a country with lots of mountains and valleys. Irene lives in a house on a mountain away from her father because her mother is too ill to take care of her, and her father is too busy running a country. She lives in the house with maids, cooks, and a nurse, which she calls Lootie, and her great-great-grandmother, who lives at the top of a mysterious staircase in her house. Under the mountain, goblins live there, and Irene's friend, Curdie, overhears one day while mining that the goblins are plotting to do something horrible. With the help of Irene's magic ring that her great-great-grandmother gave her, can she stop the goblins? Find out for yourself when you get this book.
I like how the author described because she was very specific and detailed. Sometimes he even used up a whole paragraph just describing one thing.
My favorite character is Curdie because he is a gentleman to Irene. One time in the book, the goblins were following Irene and Lootie, and he sang a song that the goblins hate so they would go away. I like how there was a mysterious staircase in Irene's house because it would be so cool if there was a staircase in my house that led to my great-great-grandmother.
There were a few illustrations in this book. Usually they were at the first page of each chapter, or sometimes one or two per chapter. The illustrations were very detailed, and they helped me figure out what was happening when I got lost.
I recommend this book to 5th or 6th graders who enjoy reading books that have paragraphs that only describe one thing, because I know that some people don't like books that are wordy.