Frederick
Written by Leo Lionni
Reviewed by AC (age 10)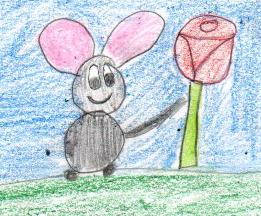 This story is about a little mouse named Frederick and his family. The mouse family is collecting food for the winter. While Frederick is just sitting there. In the middle of the winter the family runs out of food. What do you think will happen? Do you think Frederick will collect something for the winter?
This story reminds me of the time when there was an ice storm where I live. The reason why is because there is snow in this book and the family is running out of food. This is what kind of happened to me. This story is really special to me because it's like what happened to my grandfather. He picked food for the winter like in the book when the family is picking food for the winter. I think that this story is divine. The reason why is because this story reminds me of my life. So I feel relaxed. The character that I liked and found interesting is Frederick. I found him very interesting because he collects some pretty weird things, but I can't tell you. My favorite part was when he showed his family what he collected. That was my favorite part because we finally got to see what he collected.
I would recommend this book to people like to read about animal families. The reason why is that this story is about a mouse family trying to figure out what they are going to do. That is what makes it interesting to me.