Dinosaur Before dark
Written by Mary Pope Osborne
Reviewed by SF (age 9)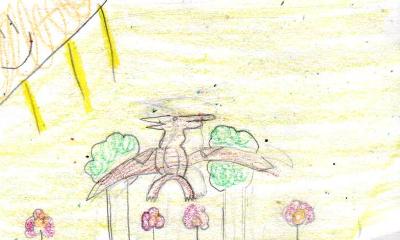 This book is about 2 children named Jack and Annie, who wonder around in the woods. They find a tree house filled with books. They read a book about dinosaurs and enter the book. A Triceratops and a Tyrannosaurus were following Jack and Annie because the dinosaurs thought Jack and Annie tried to get their baby eggs down the hill. Jack and Annie are only friends with one of the dinosaurs. The other dinosaur was chasing them and trying to scare them. Jack writes facts about the Pteranodon in his note book. Jack and Annie get a ride on the pterandon to the tree house.
My favorite part of this book is where Jack and Annie forget their book on the ground. I like it because I always forget my books outside too. The author helped the reader understand by putting interesting parts and words. My favorite character is Annie because she is not that mean to her brother Jack. I want to be her because I am not that mean to my sister. I don't want to be Jack because he is mean to Annie. In this book they talk about dinosaurs. The part I didn't like was when Jack and Annie had to leave. I didn't like it because I still wanted to read more in the book. My other favorite part is where they get a ride on the dinosaurs back--I liked it because I wish I can ride on a dinosaur.
This is a just right book for 2nd and 3rd grade students because it isn't too hard or too easy. You can read this book to know about dinosaurs. Moms will love to read this book to their kids. The Accelerated Reader (AR) level of this book is a 2.6. If you read this book, you will enjoy this book.