The Journal of Biddy Owens, the Negro Leagues
Written by Walter Dean Myers
Reviewed by Mike N. (age 14)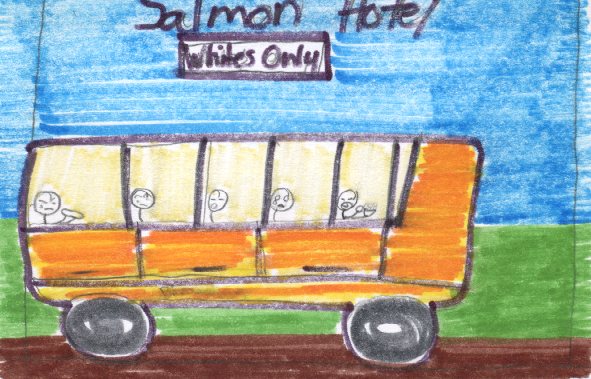 Biddy Owens keeps a diary about his first real job, working as the bat boy for Piper Davis' Black Barons, a Negro major league baseball team. As his diary unfolds, it describes the talents of many of the league's stars. But, he also documents more than baseball heroics. He also shows how the players experience the irony of being part of a heroic team who cannot celebrate their victories in many Southern towns. For instance, the team has to stay on their bus to sleep and eat. Hotels won't rent rooms to "coloreds" and restaurants won't seat nor serve them. Despite all of that, Biddy follows the rising baseball career of Jackie Robinson, the first Negro player in mainstream American baseball. Will the Negro Baseball Leagues survive Jackie's success?
My favorite part of the story was when Biddy came home from his long trip on the road and his sister's friend was sleeping in his room. He was mad but when his sister told him it wasn't his room anymore he knew that she was right. Biddy changed from the beginning of the story to the end. In the beginning he was only a bat boy, and basically did the team's bidding. In the end, he was actually playing with the team. Parts of the book that made me think were when the team couldn't get off the bus after some of the games in the South.
I think this was a good book because it was about a young Negro boy pursuing his dream despite all of the bad things that happened to him and his team. I would recommend this book to readers who are interested in the history of baseball, both good and bad parts.