Scat
Written by Carl Hiaasen
Reviewed by Jack R. (age 9)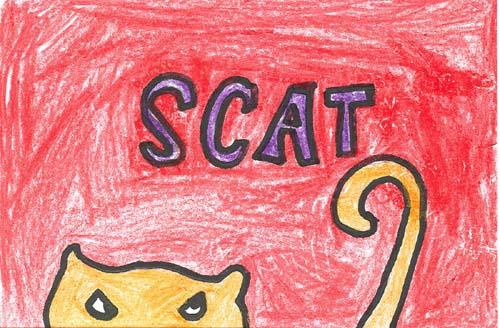 Scat is a book with two stories and one plot. Nick, Marta, Twilly Starch and Bunny Starch (they are not married) and Duane (nicknamed Smoke) are trying to get a baby panther back to its mother. Drake McBride and Jimmy Lee Bayliss are drilling oil illegally. Will the panther get back to its mother? Will the bad guys get caught? Read to find out!
I liked this book because I thought Scat was really fascinating because of how they described the baby panther. My favorite part of the story was when they saved the baby panther from dying. This book reminded me of my friend Mac who is on my basketball team because he is a lot like Duane's character in the story.
I would recommend this book to anyone that likes action. I think people should read this book because it is exciting and fun to imagine. People in second grade and up could read this book.