Cam Jansen and the Mystery of the Stolen Diamonds
Written by David A. Adler
Illustrated by Susana Natti
Reviewed by Lille G. (age 8)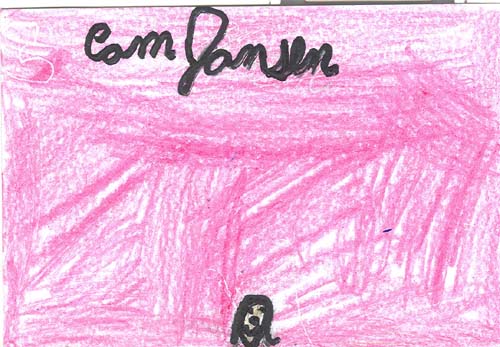 This book is about a girl that solves problems with her photographic memory. Her name is Cam, which is short for camera. Someone stole diamonds from Parker's Jewelry Store. Cam has to find out who stole them. You'll have to read the book to see who took them.
I think this book was great because of Cam's photographic memory and how it helps her solves a lot of mysteries. I liked this book because the thieves use something funny to help them get away with the crime. My favorite part of the story was when Cam and Eric learned the truth about the baby. The book reminded me of another Cam Jansen story about the missing dinosaur bones. She and Eric used the clues to solve the mystery.
I would recommend this book to kids who like to solve mystery cases.