Captive Witness
Written by Carolyn Keene
Reviewed by Marissa H. (age 11)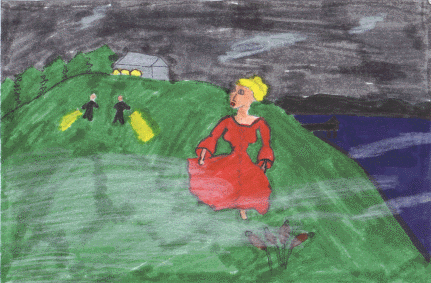 When Nancy Drew tries to find the missing film "Captive Witness" and tried to find and free ten missing children, she finds herself in great danger! What does Nancy have up her sleeve this time? How will she help these missing chidlren with enemy spies on guard? This book is a must! Be sure to check it out!
It all starts at the airport when Nancy Drew, Bess Marvin, George Fayne, Ned Nickerson, and Dr. Bagley find out that the porter was not porting the bags but stealing them. Why was the porter doing this? Before Nancy could think, Ned motioned for Nancy to help him stop the porter. "Stay away or I'll hurt you," the porter threatened. Nancy quickly replied, "Drop those suitcases and I'll let you go!" "YOu'll let me go?" the porter snapped. Quickly Nancy leaped high, grabbed a projecting pipe, kicked her feet at the man's shoulder which threw him off balance as Nancy landed safely on the floor. Nancy took the bags, threw them behind her when a black car pulled up as the "porter" jumped in and yelled, "Nancy Drew, I'll take care of you myself!"
My opinion on Captive Witness is very high. I would give it five stars! I highly recommend Captive Witness because although Nancy gets kidnapped, it is always fun and exciting to read those last-minute moves that Nancy has to show. I also recommend this book to you because mysteries are always fun and exciting to read.
This book really got me going because for the longest time, I thought Gutterman was good, but the whole time he was a criminal. I thought Gutterman was good because he disguised himself as a hotel owner so that he could kidnap Nancy. He kidnapped her by offering her a trip to Vienna. Instead of taking Nancy to Vienna, he took her to his hideaway. Nancy was smart and asked Ned Nickerson, her friend, to come along with her. The result was they captured Nancy and Ned! By helping each other, they escaped.
This is one of the most exciting Nancy Drew stories because it's one of the rare ones where someone gets kidnapped. How does Nancy make her final move? Here are some clues... 11 inner tubes 1 small tank of compressed air black greasepaint theatrical makeup kit one ball gown circa 1880 with hat to match 1 titian wig (long hair) six assorted pairs of sunglasses a limousine, but no driver, to be ready at 7 a.m. two duck calls two rubber scuba suits detailed maps of the Czech and Hungarian borders a chauffeur's uniform a baseball hat