Escape from Slavery
Written by Doreen Rappaport
Illustrated by Charles Lily
Reviewed by Modesty S. (age 12)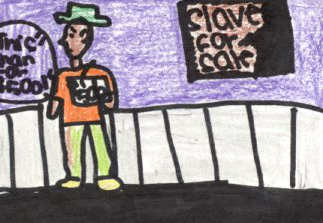 This book is about five stories of how black slaves made desperate escape for freedom, let it be either across a thawing river of ice or chipped in a 2 1/2 ft. wide, 3 ft. long, and 8 in. deep crate to Philadelphia, Pennsylvania. I think that what would make you want to read this is that their amazing escapes will interest you deeply. The lesson that could be told from the story is that slavery is wrong and everybody has equal rights. I don't think that the writer was trying to talk to her readers. I just think that she wanted to write about daring, clever, and desperate slaves.
My favorite part was "Two Tickets for Mr. Johnson and Slave" because it proved that Africans are just as (if not more) smart as white people. The mini story was about a slave woman who was dressed up as a sickly, injured white man and her black husband acting like her slave. Her skin looked white, but her father was a black slave.
A character I found interesting was Henry Brown in "A Shipment of Dry Goods". He was shipped to Philadelphia in a crate.
The illustrations in the book were pretty realistic, but not too much, which put the perfect edge, and they looked frozen in time. The illustrator, Charles Lily emphasized the effect with what he used: A simple pencil, using the pencil to sketch darer and lighter in places, which gave the effect of them being frozen in time.
I recommend this book because it gives you a taste of what slaves' lives and escape were like. I think anybody would like this book, especially history lovers and people who believe everyone is equal and deserves to be free. I think the details of the book might interest readers because the author researched so much and writes so descriptively. It fills you with anger of how the slave owners treated the slaves, excitement as you read about their escapes, fear as they get hurt or hunted by slave catchers, and happiness as they reach the northern states or Canada.