The Coffin Quilt
Written by Ann Rinaldi
Reviewed by Sabrine H. (age 11)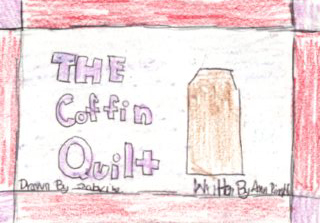 This story is historical fiction based on the killing war between the Hatfields and the McCoys. Fanny McCoy tells the story. It all starts when Ranel McCoy (Fanny's father) loses his pigs and "Devil" Anse Hatfield and his wildcats kill Ranel's younger brother. Fanny has four sisters and five brothers. One of her sisters, Roseanna, runs off with none other than Johnse Hatfield, a handsome fella. She moved into the Hatfield's home, and made Fanny swear not to tell.
Eventually, Pa found out and sent Fanny and her brother, Tolbert, to get her. At first Roseanna refused, but later she came home. She brought with her the "Coffin Quilt". It's a quilt made with "coffins" with each name of a family member who had died. Roseanna was very unhappy when she came home and used to talk in her sleep. She revealed something to Fanny, but I am not going to tell you what it is. If you want to find out, you need to read the book. Unfortunately, Roseanna never marries Johnse, and the war between the Hatfields and McCoys results in the deaths of Fanny's brothers: Tolbert, Pharmer, Bud, and Alfair.
My favorite part is when Roseanna ran off with Johnse. I felt that Roseanna was brave enough to marry someone that her parents did not like. Also, I admire Fanny for being a faithful sister and not revealing the Roseanna's secret.
This story is amazing. I could imagine the adventure and the blood-thirsty revenge of the two families. It was a true war between families which happens even though I have not experienced it.
I recommend the book for people who are in the need for excitement and adventure. Ann Rinaldi wrote many other historical novels. I suggest you read her work. I hope you love this book as much as I did.