In the City of Dreams
Written by Tony Abbott
Illustrated by Roy Fitzgerald
Reviewed by Marykaye V. (age 11)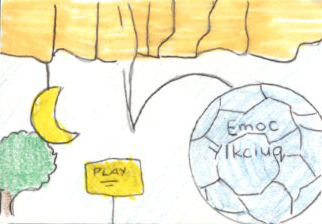 In the world of Droon is where these three kids: Eric, Neal, and Julie go when they are called for help. Well the last time Eric was in an epic battle, he was wounded and now lays in a coma inside of a secret tower. A princess, named Keeah. and some monster like characters care for him. When Neal and Julie receive a secret message from a magic soccer ball, from Droon, they are suddenly worried and rush to see Eric. Eric is somehow trapped in a dream world between fantasy and reality. So it leaves Princess Keeah, Neal, and Julie to find a cure to heal Eric.
I like the book because it is filled with fantasy and adventure. My favorite part is when Eric rode a gigantic dragon in the City of Dreams. If I had the chance to ride a dragon, it would be awesome. Also, there are numerous illustrations that show the emotions of the characters.
One of the characters I found interesting was Eric because he trusts his friends. He reminds me a little of myself because I trust that my friends are loyal and will never leave me.
I recommend this book because it is filled with adventure. There are many books that have adventure, but in my opinion this story is unique. I think the readers would most enjoy the part when Eric is changed while he is in the dragon. It felt like a race.