Calvin Coconut: Zoo Breath
Written by Graham Salisbury
Illustrated by Jacqueline Rogers
Reviewed by Gerardo C. (age 10)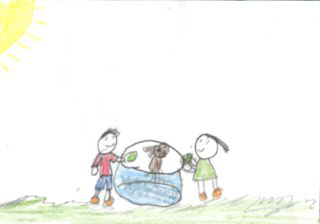 This story is about a boy named Calvin. He had a dog named Streak. Calvin's mom complained about Streak's smell. One day Calvin's teacher announces a project had to be done. Calvin decides that he is going to remove his dog's smell. Calvin then records stinks with his partner. Then Calvin and his sister gave Streak a bath and try to wash the smell away. They didn't succeed, but they kept trying even though their mom said that she would not sell Streak.
My favorite part of the story was when Calvin's mom announced that she would not get rid of Streak because Calvin was so worried about losing him. Calvin shows great determination to care for Streak. Calvin's mom showed love when she said that she wanted Calvin to be happy with their dog.
The lesson I learned was to ask when you want something. Calvin wanted to keep his dog, but he didn't ask his mom if he could keep him. He overreacted instead.
I would recommend this book because it is entertaining and the readers will not be able to put it down. It has moments in it that kids might share especially if they have a pet.