Indiana Jones and the Face of the Dragon
Written by William McCay
Reviewed by Winston A. (age 10)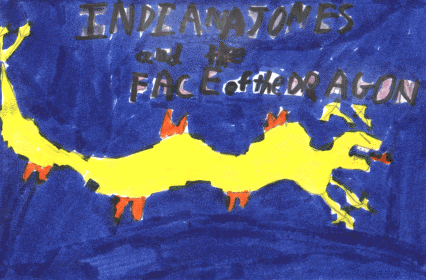 This book is about a boy named Indy and his father Professor Jones. Both of them sailed from San Francisco to Beijing. Indy and his father only know a little bit of Chinese. When they arrive at Beijing, a lot of people recognize Indy's father is a very famous professor.
One day when Professor Jones and Indy were walking on the streets, Indy found a statue of a dragon face on the ground. When the tried to ask somebody about the dragon a guy called Black Hat and his gang found Indy and wanted to know what he had in his hands. Indy thought Black Hat's gang was trying to kill his father and him, so they started to run. When Indy and his father came to a door, they either had a choice of getting killed or going through a door that they had no idea about. So they decided to go through the door and lock it. The gang came to the door and had no idea where they went.
Inside the house they found a little girl whose name was Deshi. Indy asked, "What is with the statue?" Deshi replied, "It contains magical powers but only to the special one that has a big heart for courage." Indy thought and thought till he finally remembered that it helped him and his father get away from Black Hat's gang. He told Deshi what he remembered. Deshi said, "You are the special one."
When Black Hat's gang found them inside the house, they wanted to know if the dragon face statue had really cool magical powers. They also had no idea how the statue worked. It didn't reply because they had no courage in their hearts.
If you want to really find out if the dragon has real powers please read this Indiana Jones book. It will help you to know about it.
I recommend this book because it is kind of cool, mysterious, and also interesting. I find it cool because of all the adventures in the book. It is mysterious because it is a mystery on what is the power of the dragon. This book is interesting because it has so many different facts about the dragon.
My opinion on this book is that it does not give enough detail about how the power of the dragon face worked.