When Sophie Gets Angry--Really, Really Angry...
Written by Molly Bang
Illustrated by Molly Bang
Reviewed by student in Pam's 1st Grade Class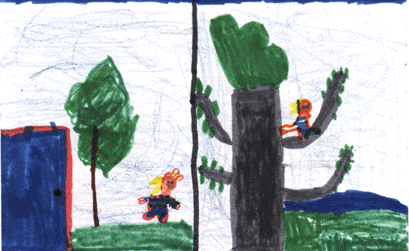 A girl named Sophie was playing with a stuffed gorilla. Her sister came and said, "My turn!" Her sister took the gorilla away. Their mom said, "Yes! It is her turn now, Sophie." Sophie felt very very angry. She felt like she was going to explode. She screamed and kicked. Sophie wanted to smash the world to smithereens. She went outside to run and run and run. She cried a little. She was alone in the woods. She saw a bird and the ocean and the world. That calmed her down. She climbed an old beech tree. That made her feel better. She went back home. Everyone was happy again. Sophie wasn?t angry anymore.
It reminds us of when we get really, really mad. It reminds us of when we climb trees. It reminds us of someone who takes our stuff. We like the way the illustrator shows the words that people say. They are bigger than the words in the book. The loud words are all in upper case letters. The soft words are in lower case letters. Every illustration is outlined. When she gets angry the outline gets red since it shows that she?s really angry. Then when she goes and calms down the outline gets lighter and lighter because she is happier. The illustrator wanted to show whether she was getting angry or not.
We recommend this book to people that get angry and feel better. When they read this book, we think they will feel much better. If you?ve ever gotten angry, sad, frustrated and then happy in the end you should read this book.