Falling for Rapunzel
Written by Leah Wilcox
Illustrated by Lydia Monks
Reviewed by Daniella (age 8)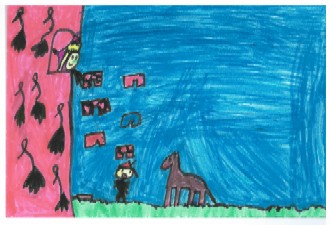 Falling for Rapunzel is a fractured fairy tale by Leah Wilcox. Falling for Rapunzel is a very funny story about a girl named Rapunzel. There was a prince who asks for her to let down her hair so he could climb up the tower. Rapunzel misunderstands him and throws down other stuff instead of what he asks for. When he asked hor to throw down her curly locks, she throws down dirty socks! Want to know what happens next? Read the book to find out. There's a surprise ending that you will love!
I think this story was hilarious. I loved it. My favorite part in the story is when Rapunzel throws down the stuff the prince doesn't want. She throws down crazy stuff like her underwear. I liked the characters Rapunzel and the prince. I found the prince interesting because he had a good sense of humor. This book is special because it won a Maryland Black Eyed Susan Award for good picture books.
I think this is a good book for young readers ages 4-7. I think everyone who loves fractured fairy tales will like this book as much as I did.