Ginger Finds a Home
Written by Jane Wagner
Illustrated by Charlotte Voake
Reviewed by Ginger K. (age 9)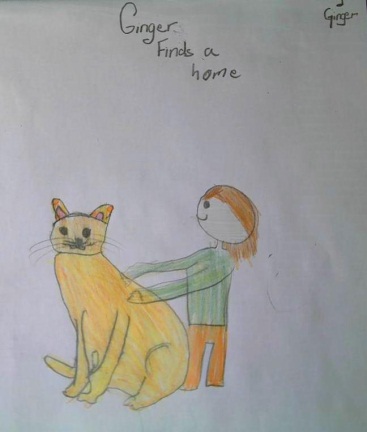 This book is about a cat that is a stray and can't find a home. And then a little girl comes every day and gives him food and then he runs away! Then one day the little girl finds the cat and then they live together and the little girl gives him food every morning.
Ginger learns that he can trust the little girl. I love this book because it has my name on it! And the author is awesome! My favorite part was when the little girl brings the cat into the house and names the cat Ginger!! The little girl is my favorite character because she was kind to keep the cat instead of leaving it out in the wild! I have read the other book of Ginger finds a home! It is also by the same author!
I think that the illustrator is a good author and illustrator too! When I read the book it made me think of a cat that I saw one day in the street! I think that this book would be for people who are about to begin reading!