Emmy and the Incredible Shrinking Rat
Written by Lynne Jonell
Reviewed by Maddie M. (age 10)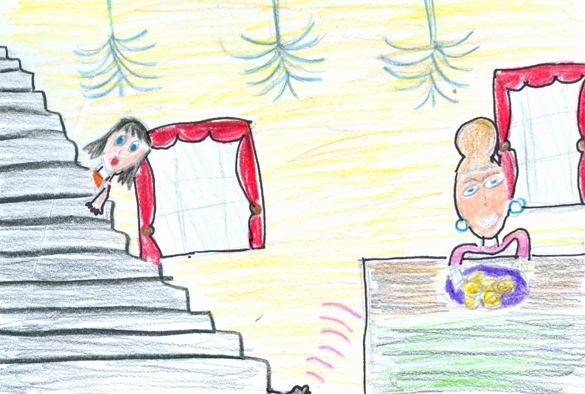 Emmy and the Incredible Shrinking Rat is a wonderful novel that will keep you biting your nails and on your toes the entire book. This story is a page turner, you cannot put it down! In the story, Emmy faces many challenges, including saving her parents and making sure her sly and surreptitious nanny, Ms. Barmy does not continue her evil doing. Along the way, Emmy makes, and keeps some friends, including a couple of kind rats, a friendly boy named Joe and some other generous people and animals. Joe, Emmy and the rats have to save Emmy's parents and destroy Ms. Barmy before it's to late. This book will take you through a magical journey that is a perfect mix of a mystery and adventure.
Throughout the story, the reader can discover what Emmy's life is like, and can develop her feelings, like misery, sneakiness, and happiness. The reader can almost feel like they're there with Emmy, going through all her excitement and terror. During the middle of the book, you will discover an evil man assisting Ms. Barmy in her wretched plans. The rat, Raston will have to get down low with some of his rat cohorts, to bite the evil man and Ms. Barmy, leaving them with an unpleasant surprise.
In my opinion, Emmy and the Incredible Shrinking Rat is one of the best books ever written. I love the mystery and excitement that makes you feel like you're right there with Emmy. There are plenty of examples of surprises, sorrow, and joy. You can feel what she's going through between her used to be kind parents now turning into rich, stuck-up snobs, and her terrifying nanny, Ms. Barmy, who's out to get and destroy Emmy, her pets, and her friendships. I love all the drama in this story. The joyous parts make you want to jump and sing, while the heavyhearted parts make you want to scream and cry. This story displays perfect examples of being, believing, and standing up for yourself. In this story the nasty, evil characters get nowhere while the friendly and kind characters proceed in their well-being and doing. This book makes you realize what you have in life, and how to help others who are less fortunate. Read this book, and you'll become a whole new fantastic person.
I would recommend this book to boys and girl ages 8-13, who like to be in suspense, are curious, and love to get lost in the midst of a story. If you like mystery's you would probably like Emmy and the Incredible Shrinking Rat, too.
I loved this novel, I thought is was fantastic. Lynn Jonnel is a wonderful author and Emmy and the Incredible Shrinking Rat is one of her best volumes.