Ravenpaws Path-Shattered Peace
Written by Erin Hunter
Illustrated by James Barry
Reviewed by Julia O. (age 8)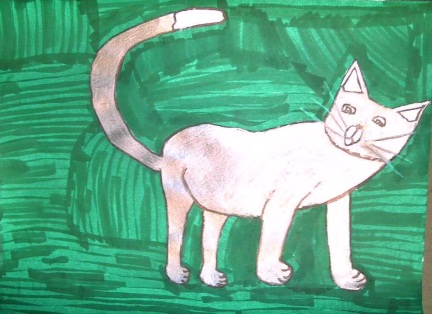 This is a book about a cat, Ravenpaw. He lives in an old barn. Other cats are trying to take over Ravenpaw and his friend Barley's barn! They try to defeat Ravenpaw and Barley. I think one of the main ideas is that you shouldn't try to take over other people's ideas or things and in this book their barn.
I really like this book because I love cats. I also like it because I love action and there is always something exciting going on in this book.
My favorite characters are Ravenpaw and Barley because they have to fight the other cats to stay in the barn. I also love this book because Ravenpaw has already lost a home once and he is determined to not lose this one!
This book is a little like the second book in the Ravenpaw's Path from the Warriors series. They are about Ravenpaw and Barley and Ravenpaw's old clan that needs his help. Read that book to find out how Ravenpaw helps his old clan.
I think everybody should read this book if they love cats. I think that 3rd-6th graders should read this book. It is nice for that age or a kid that likes graphic novels.