Scooby Doo and the Sledrace Mystery
Written by Maria Barbo
Illustrated by Duendes del Sur
Reviewed by WC (age 8)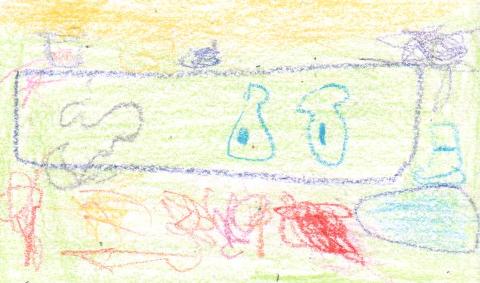 I like it when Scooby hid in Shaggy's and Velma's snowman. It was funny when Scooby ate macaroni, cheese, peanut butter, jelly, bananas and fish. Then he got a tummy ache. It was really funny when Scooby put on skis and crashed into a row of trees. He was going too fast to ski. You can read this wintertime Scooby Doo book anytime, any day,any month, any year. There were things for Scooby to find like a missing sled dog. Read this book to find out where the missing sled dog was.
I like this book especially when he hid in the snowman after hearing a scary noise. That was funny. My favorite part was when Scooby was trying to see if he was any good at skiing-- but he wasn't! I thought the illustrations were exciting because they showed lots of action.
I recommend this book because I found it to be awesome. I think students who like winter would like this book because it is fun to read about winter activities and it takes place outside during the winter season.