Pony on the Porch
Written by Ben M. Baglio
Illustrated by Shelagh McNicholas
Reviewed by Erica A. (age 9)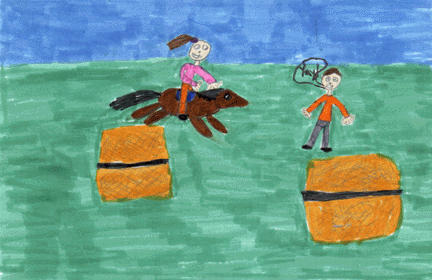 Mandy?s mom and dad own an animal hospital. Mandy is a girl who loves animals. Every year there is a county fair. They have show jumping contests. This new girl named Susan bought a pony named Prince and wanted Prince to show jump in the county fair. Mandy and her friend try to save Prince by putting him in the church, until the show jumping is over.
A pony?s life is in danger because his owner wants him to enter a contest he can?t enter, because he?s sick. Mandy tries to save him by kidnapping him. Will Mandy give Prince back? Will she get in trouble? Will Prince get well?
This was an exciting story. It kept me wondering about what would happen to Prince. I recommend this book to people who love animals. I picked this book because I love animals and I want a pony.